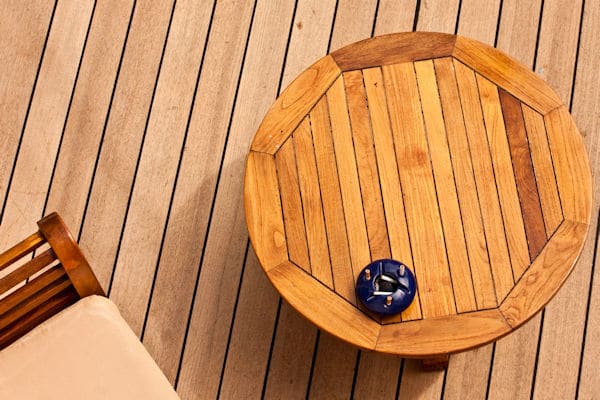 The options for deck wood are endless, but some are better than others. With the right choice, your deck can last longer and improve the atmosphere of your backyard. Both softwoods and hardwoods offer different pros and cons that will work or not work for differing people. Take a look at the various options to help you make the right decision for your home.
Difference Between Soft Woods and Hard Woods
Before making a decision, you need to choose between hardwood and softwood. Hardwood comes from flowering trees and softwood from coniferous trees (trees with cones). As hardwood tends to be heavier, it's more durable and more fire-resistant than softwood. Typical hardwoods include oak, mahogany, and teak. Common softwoods include spruce and fir.
Additionally, because hardwoods are so durable and slow-growing, they are more expensive. The heavier density makes them feel sturdier too. While softwood may fit better in your budget, the chances are strong you will need to replace these options more often. For those who like to change décor options regularly, softwood may be the better choice.
Cedar
Cedar is one of the most popular options for decks because of its rich color and sturdiness. Not only does cedar looks incredible, but it's often affordable. However, cedarwood is softwood but does have some natural weather-resistant properties making it a good choice for decking. In addition, as a durable wood, it can resist exposure and rot.
Although, cedar does better when it's used for a raised deck and not for a deck on the ground because it's susceptible to damage. Cedar also requires regular maintenance and sealers every two to three years, but it is easy to stain. You should be able to keep a cedar deck for up to twenty years with proper care.
Many people prefer cedar because it's free of chemicals and preservatives, leaving you with natural beauty. The oils in the wood and the tannins help to protect the wood. Keep the quality of the wood in mind, especially if you do not want to redo the work again soon.
Composite Wood
Composite wood is essentially fake wood made of plastic or wood polymer composites. What makes this a great option is the lower cost and that it's insect-resistant plus rot-proof. However, you will need to take extra care of the wood to keep the wood's appearance, and they often look artificial.
People on low budgets often choose composite also those who want to do less work and care. Often, composite decking uses a mixture of recycled plastic and wood dust to make dense wood-like boards. As composite wood is virtually maintenance-free and extremely weather-resistant, this is an excellent choice for extra rainy climates or those with tons of snow. Furthermore, you do not need to worry about splinters, warping, cupping, or rotting.
Mahogany Wood
Mahogany hardwood makes for a gorgeous deck with a less reddish hue and more of a deep brown. It's naturally attractive with an intricate wood grain and many color variants. Even better, the wood tends to be naturally water-resistant, making it a great option for decks as it can withstand bad weather.
Furthermore, the wood does not shrink or warp even in harsh winters and will resist rot too. Even using nails and screws on mahogany works well. However, it's more expensive and hard to find, especially in a wood shortage. It's heavy too and darkens over time as it absorbs sunlight.
Pressure Treated Wood
The benefit of pressure-treated wood is its resistance to rot and bugs. Furthermore, it's one of the more affordable options and holds up well. Nonetheless, this type of wood can be unstable and can shrink or twist with time. If you choose pressure-treated wood, then go for higher-grade lumber to prevent future problems.
Southern yellow pine is one of the most popular pressure-treated woods as it's durable, strong, and great for the environment. It's often treated with nontoxic chemicals making it safer and yet still resistant to rot and bugs. As a result, you can get incredible strength for less money. With a slight green tint from the pressure treatment, yellow pine works well in warmer climates.
One problem with pressure-treated wood is it's not as stable and may swell, shrink, cup, split, and warp when exposed to the elements. Some boards may require replacement after only a year or two. Use high-quality semi-transparent deck stain and wood preservatives to improve the lifespan of the wood.
Redwood
Redwood offers incredible beauty but requires maintenance with sealers regularly. Also, redwood can be very expensive, especially if you live on the west coast. However, the wood maintains its stableness and resists warping. What makes this option so great it stays beautiful longer as it contains very little resin to retain its finish.
Many people choose this wood for the reddish-brown hew. Like with cedar, the tannins and oils help to keep the natural beauty longer. Make sure to pressure wash the wood at least once a year to retain the natural beauty and stain every couple of years.
Tropical Hardwoods
While more expensive, tropical hardwoods like cumaru, ipe, and tigerwood offer luxury flooring with an exotic ambiance. These woods tend to be more grainy, hard, and durable, with a natural resistance to rotting and insects. Drilling holes in the wood can be difficult though making labor more expensive too. Make sure to apply a UV-blocking preserver to keep the wood looking beautiful.
As tropical hardwoods are extremely dense and hard with beautiful grades, they make for the most impressive styles. The average homeowner cannot afford these options. However, staining the wood can be a difficult process, and when let to weather will deliver a silver patina. If you plan to stain the wood, choose a less tropical option.
Conclusion
With so many options available, it's best to look at the wood options and consider all the factors. Think about how much maintenance you are willing to put into a deck, along with the color that suits your tastes. Finally, consider the cost and longevity of the wood to help make the right choice to get the deck of your dreams.