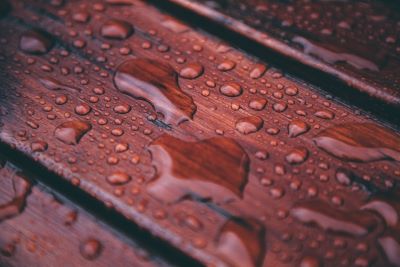 Semi-transparent deck stain lasts for an average of two to three years without peeling, and it's easy to clean. Also, reapplication does not require major work like with solid stains. The best feature, though, is semi-transparent stain allows the grain of the wood to show through for a gorgeous finish.
Finding the right option in a sea of choices can pose some difficulties, which is why we found the seven best options for you. Some of the options are just stains, while others are both stains and finishes to help you to have a wide range of choices. Take a look at our favorite option to make your deck an oasis.
Best Semi-Transparent Deck Stains
1. DeckWise Ipe Oil Hardwood Deck Semi-Transparent Natural Finish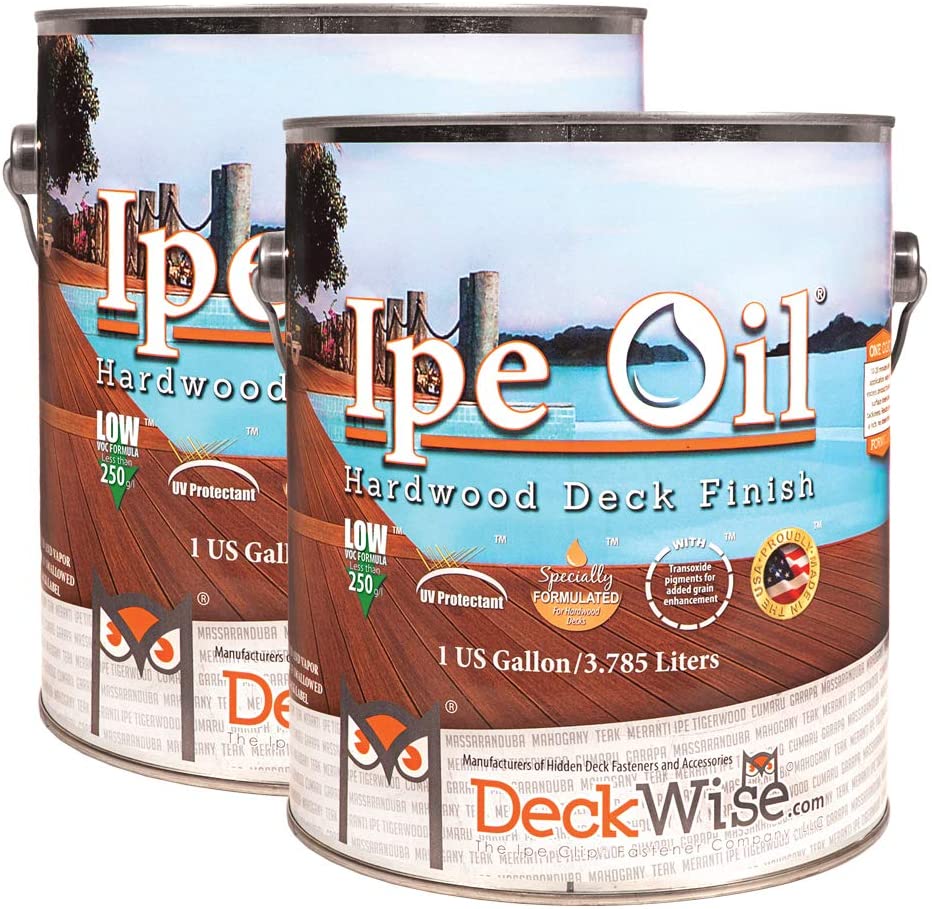 The DeckWise Ipe Oil Hardwood Deck Semi-Transparent Natural Finish is ready to work on your deck and on all other exterior hardwood. Use it on fence rails, furniture, and more. The oil gives incredible color, and it's easy to apply with just enough pigment for coverage while still allowing the wood's natural beauty and grain to shine through.
Why do people buy this pricy choice? Because it's extremely low in VOCs, meaning you don't need to grab a hazmat suit to apply. It's still oil-based but not as toxic with only 250g of VOCs.Definitely still take precautions, but you don't need to worry as much as you would with high toxin products. Also, customers love this product because it can work with exotic woods that other options cannot work with.
The product only comes in 1-gallon sizes and In a natural finish. Furthermore, the product helps to protect against UV lights as well as mold and mildew. One coat is all you need, and it will not crack, bubble or peel. Keep in mind, people in California can only purchase this in a store and not online.
A gallon can cover a large area, especially as you only need one coat. On smooth wood, a gallon will cover up to 300 square feet or 250 on rough wood. Allow the product to dry for a full day before use. Also, the product can even provide a little water repellency, so you don't need to use a finish unless you want to use one. Removing the lid will be your only challenge.
2. Cabot Semi-Transparent Deck Stain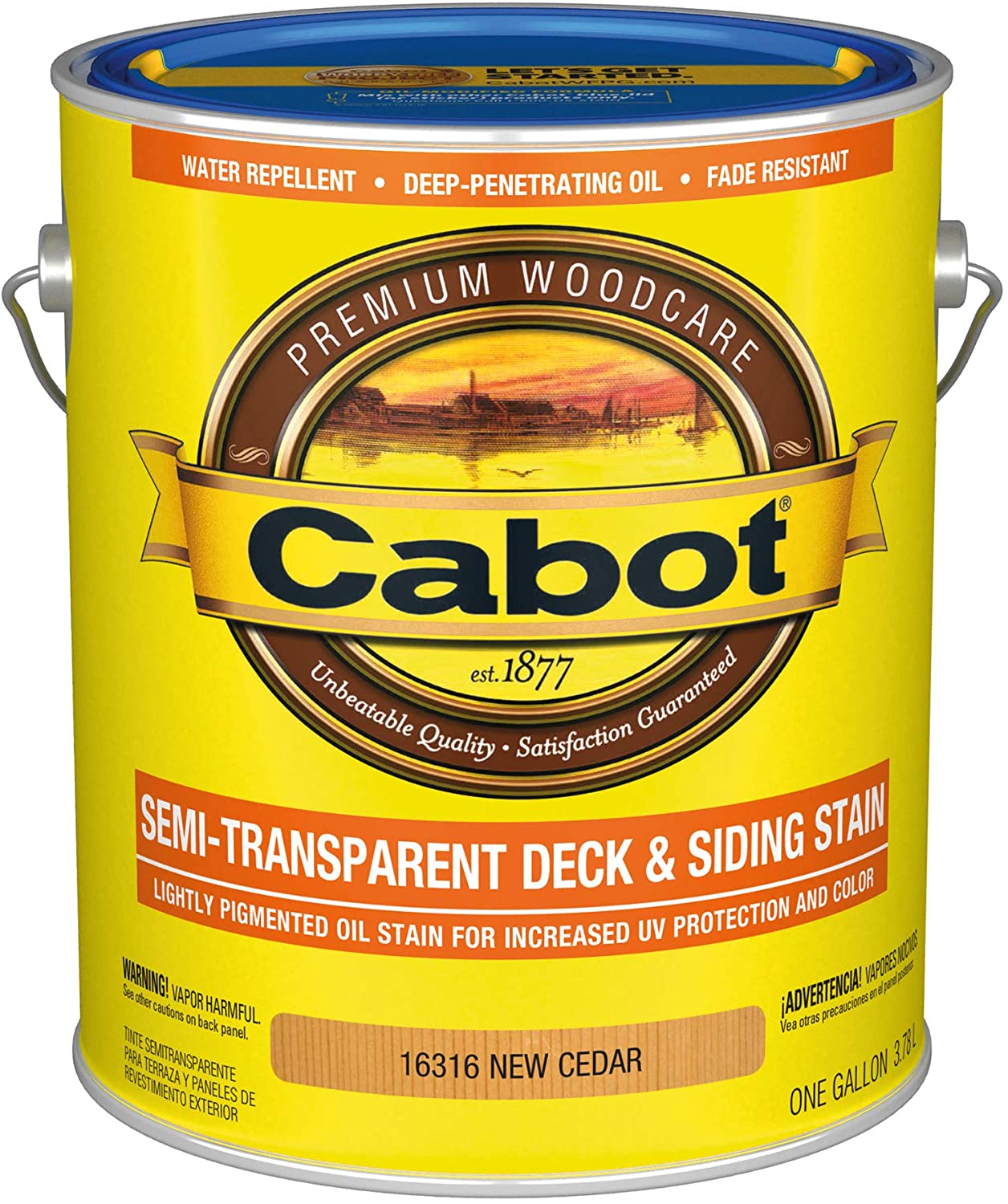 The Cabot Semi-Transparent Deck Stain offers all the same benefits as the option above but for softwoods instead of hardwoods. Even better, you can find a massive option of stain colors! From dark, light, and even more options. It offers a light pigment to accentuate the wood grain but still leave the right outdoor impression.
Not only does the stain offer color but also protection from UV rays and its water-repellent. Choose from either acrylic water-based or oil-based formulas. Use the product on decks, siding, and fences. The best part is you only need to apply one coat of the product to get the color you crave.
When applied correctly, the stain will not crack, peel, or blister. Do not use this product on interior surfaces. Moreover, the stain will not fade quickly and instead will enhance the beauty of your wood by showing grain, texture, and color variation. Use the product to cover up to 650 square feet per gallon on smooth surfaces or 300 feet on rough surfaces.
The product will last for about one to two years on a deck before you need to reapply more. Honestly, the only issue is the product sells out quickly, and you may have trouble finding the color you want. Otherwise, this is the deep-penetrating oil you need for a beautiful deck.
3. #1 Deck Premium Semi-Transparent Wood Stain for Decks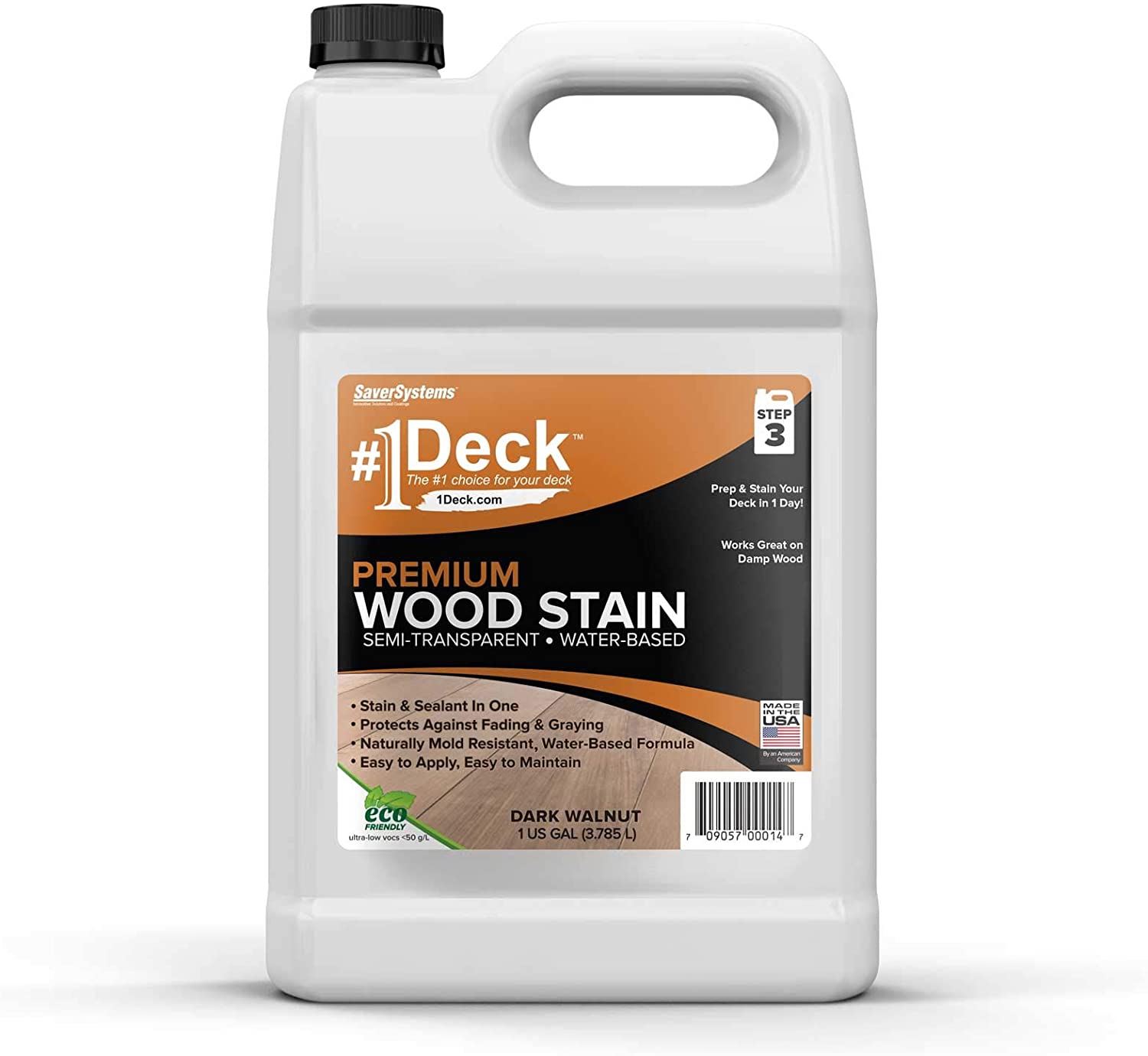 With #1 Deck Premium Semi-Transparent Wood Stain for Decks, you get an affordable and easy-to-use option with two size options. Choose from either 1 gallon or 2.5-gallon sizes. Also, you can choose between four color options too including natural, cedar, light walnut, or dark walnut, all in a semi-transparent to maintain the richness of the wood. However, if not applied exactly right or on older wood, this option can peel. Choose this option if you are brand loyal or like the color options.
The company also offers wood cleaners, stain strippers, wood brighteners you can use to prep the wood before using the product, which is marked as step three. If you follow their steps, you should not have peeling. You will love that the semi-transparent wood stain penetrates clean wood deep enough to protect it from the sun, UV rays, mildew, and other issues making this a good option to use as a finish.
Next, the product adds gorgeous color and seals too as a stain and sealant in one easy step. It's a great option if you want a gorgeous natural finish. Before applying the stain and sealer, the company suggests you strip, clean, and brighten the wood. Mix the stain well and place drop cloths around surrounding areas to protect plants and other surfaces. You can apply the stain with a brush, roller, or an airless sprayer. The large size options allow you to apply two coats that will take a day each to dry.
Once on properly, the product is easy to maintain. A gallon can cover up to 150 square feet. Also, the stain and sealant uses low VOCs with less than 50 grams per liter, thanks to a water-based formula that's state compliant. Finally, you can use the stain on damp wood, which reduces the wait time after cleaning. It's a great option for those who care about the planet and want a gorgeous deck.
4. DEFY Extreme 1 Gallon Semi-Transparent Exterior Wood Stain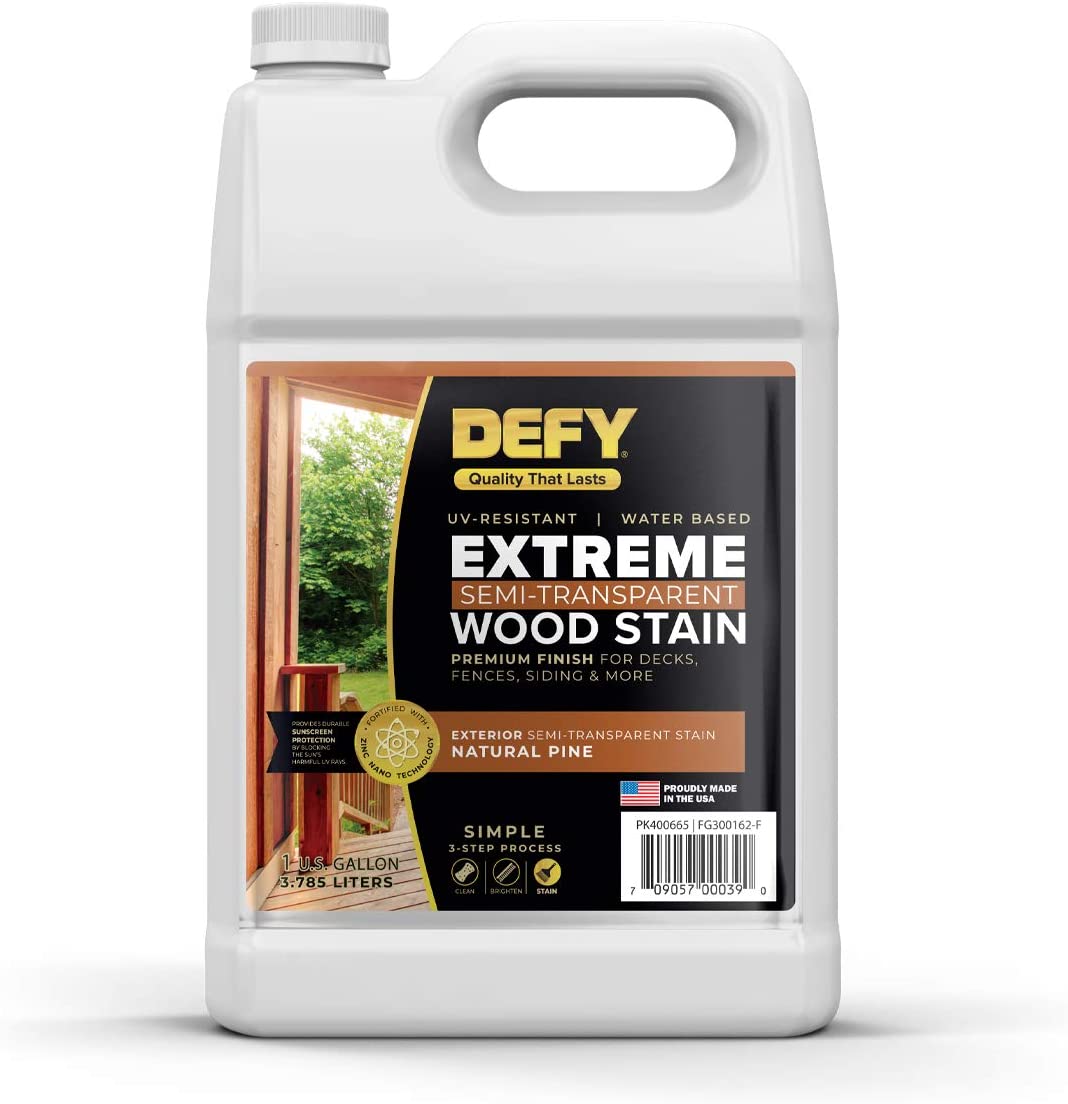 Another great option is the DEFY Extreme 1 Gallon Semi-Transparent Exterior Wood Stain. It comes in six colors, including natural pine, butternut, cedar tone, light walnut, redwood, and clear. Although, you do not want clear if you want the semi-transparent color. Furthermore, you can choose from one gallon for smaller projects or five-gallon size for larger projects.
Defy uses zinc nano-particle technology to act as a sunscreen for wood. The technology can improve the stains performance by 200 to 600 percent! This significantly increases the durability and weather resistance of the product, which is a synthetic resin. The light stabilizing nano-technology blocks harmful UV rays to prevent damage to the wood.
Your wood will not great or get water damage, mildew, or mold. However, the product needs to go on hardwood and does not work on softwood, so check your wood before choosing this stain and sealer. Some customers found that the companies claims of superiority are not up to par, though, which could be because they chose the wrong wood.
Lastly, the wood is VOC compliant and eco-friendly. You can use this on pressure-treated wood along with many other items. However, the color runs a little lighter than expected, but otherwise, this is a fantastic option you will love. Make sure to follow all the instructions for the best coverage.
5. KILZ L832111 Exterior Waterproofing Wood Stain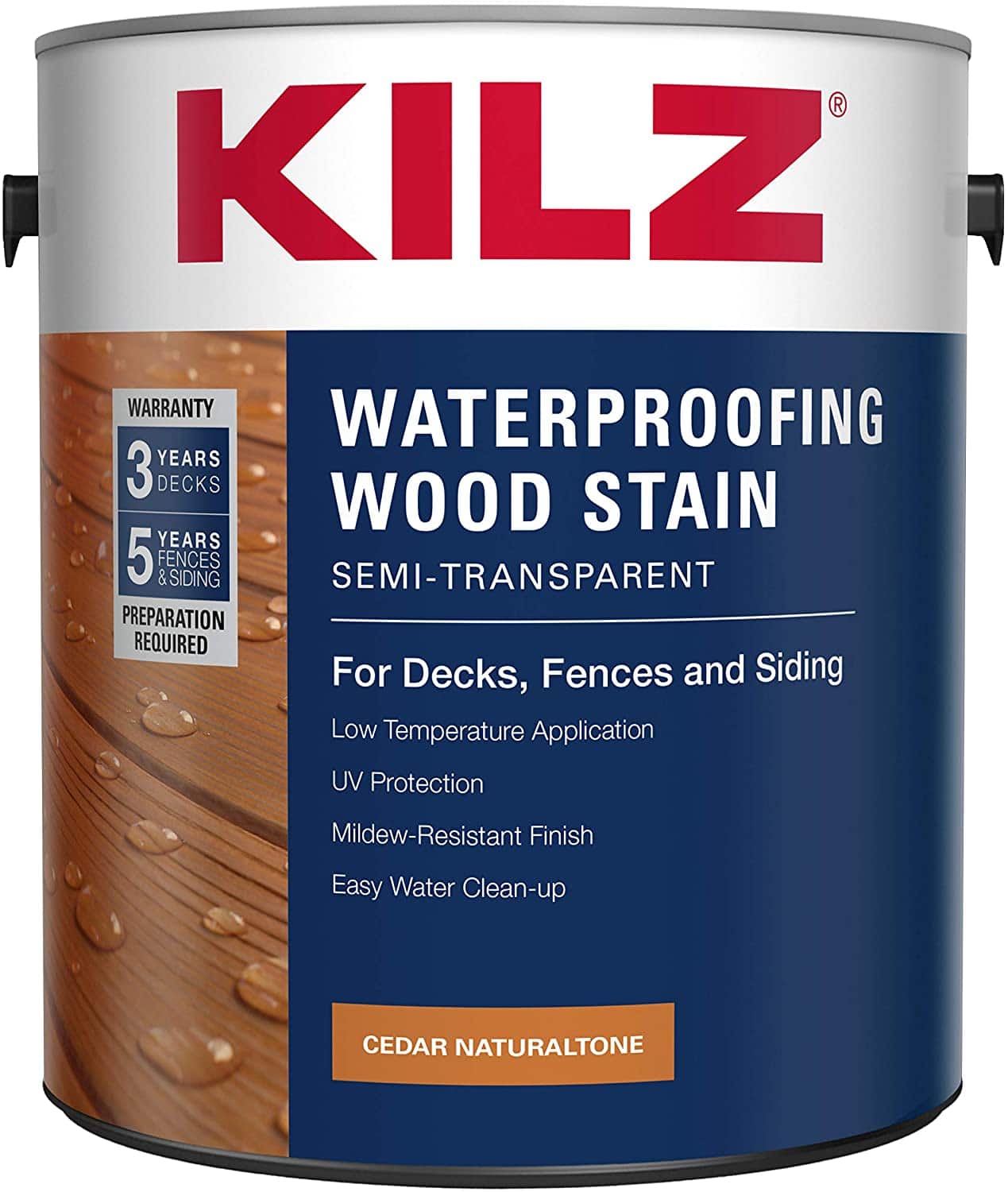 Get water protection for your deck with the KILZ L832111 Exterior Waterproofing Wood Stain. Not only is the price right, but the product comes in a full gallon size for a lot of coverage. The exterior wood stain offers protection from the sun, mildew, and water while maintaining the natural wood beauty thanks to the semi-transparent coat.
Furthermore, you can apply the stain in low temperatures, and it can withstand snow and other harsh elements. Moreover, you only need to apply every three years on a deck, and it will last longer on fences and siding. You can also use it on shingles, furniture, railing, and more.
A gallon will cover up to 250 square feet for the first coat and 500 square feet for the second coat. Mind you, this means you will need two coats, which is the only reason this stain sits lower on our list. It does dry quickly, too, in about 24 hours. Choose from a variety of color options, but the two best options are cedar and redwood, as they are readily available, while other options are not so easy to locate.
Customers found that they often need more than one gallon, and it's not the easiest product to find. When you decide to use this, buy extra to be on the safe side. People still want this product because of its ease of use, performance, and strong value. Finally, it's low VOC, too, making it a more environmentally friendly option.
No products found.
6. Thompsons Water-Seal Semi-Transparent Waterproofing Stain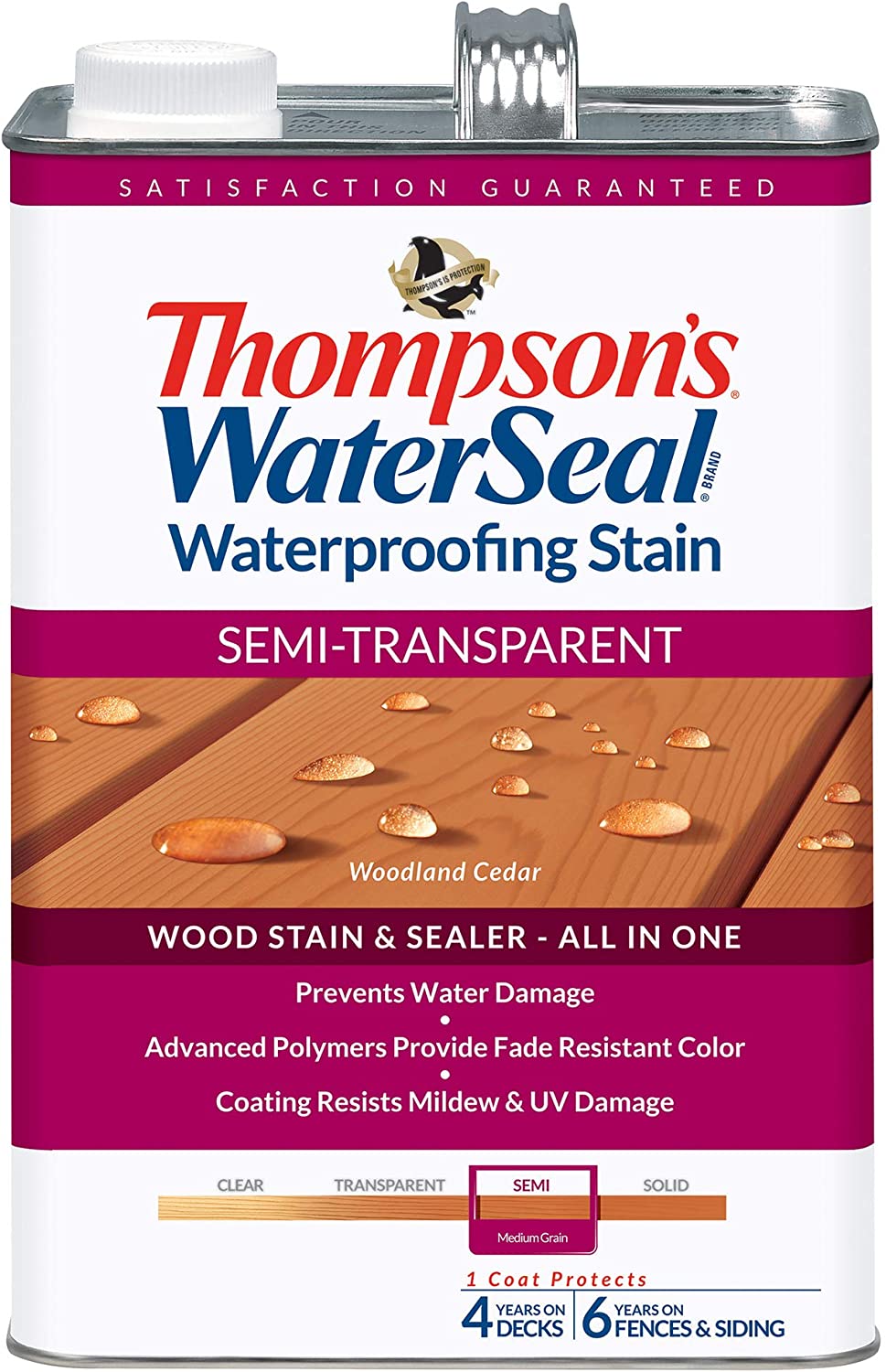 Thompsons offers a variety of fantastic staining options, including solid stain or the Water-Seal Semi-Transparent Waterproofing Stain. The semi-transparent changes the color without reducing the wood's texture or grain so it can retain its gorgeous appearance. Choose between woodland cedar, maple brown, sequoia red, or harvest gold to get the look of your choice.
As a stain and sealer in one, this product waterproofs protects against sun damage and mildew. Moreover, it provides long-lasting and durable protection using advanced polymers that protect the color and prevent fading. However, the best feature is the product can go on clean damp wood or dry wood, and it will last for up to four years!
While many stains need to be replaced every couple of years, this one offers a reprieve.
A one-gallon container can cover up to 150 to 400 square feet. Even better, the semi-transparent only needs one coat for optimal coverage saving you time and effort, and it dries in just two hours, but we still suggest waiting at least a full day for the best results. Use a paint pad, brush, spray, or a roller to apply the product, depending on how big an area you have to cover.
The product is ready to go and does not require any additional products but does need to be shaken well. However, a few customers complained the color was not accurate. Also, this is not as environmentally friendly as other options and comes with plenty of strong and even toxic smells as it's not environmentally friendly.
7. Storm Protector Penetrating Sealer & Stain Protector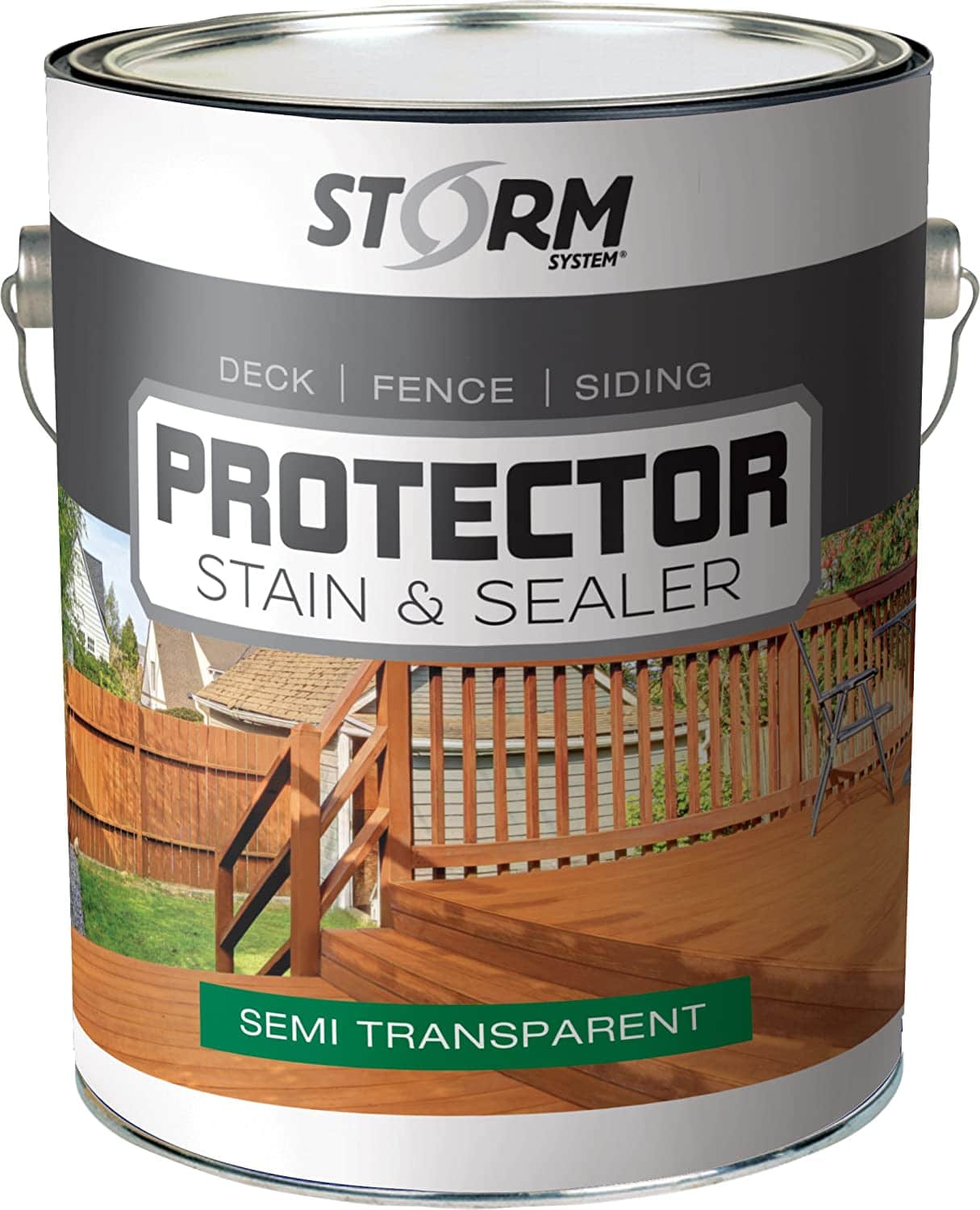 The Storm Protector Penetrating Sealer & Stain Protector offers an oil-based stain and sealer all in one container. Choose from six different color options, including golden oak, walnut, cedar-tone, hickory, pacific redwood, and Sienna. All of the options come in a beautiful semi-transparent stain, ready to allow the beauty of the wood to flow through.
The product works on more than just decks including, furniture, siding, and fencing.
The stain penetrates deeply into the wood to provide protection from sun, mildew, and water, although this is not a completely waterproof option but protects against mother nature. Use this for a variety of wood species, including mahogany, cedar, pine, spruce, fir, and more. You can use this with pressure-treated wood too, but you need to allow it to age for a few weeks first.
As the product will take a full day to dry as an oil-based sealer and can take longer. Applying two coats will take a couple of days. However, while the product is VOC compliant, it's not without VOCs and will require you to wear safety gear. Cover up to175 square feet per gallon as long as the surface is smooth with less coverage for rough surface. Each color comes in a one-gallon can.
Finally, the product is ready to use right out of the can you do not need to thin this product before use. You will want to apply two coats for optimal coverage, which does increase the cost. Mix the product often while using it to ensure an even level of color. Many customers had issues with expiration dates and opening the container making this a slightly problematic option.
Buying Guide for Semi-Transparent Deck Stains
Before picking a stain, check out a few features that can help you to make the right decision for your deck.
Wood Coverage
Semi-transparent stain adds some color without changing the texture of the wood. Basically, it allows your wood to look like wood with a subtle color. You still get the wood grain to show through, and it's a great option for new and slightly aged wood. If you want more than a hint of color, you may want to go with a solid stain. For less color, choose a transparent or clear stain to lock in the natural wood color.
Stain, Sealer, or Both
A stain only changes the color of wood, while a sealer helps to protect the wood from damage and helps to make reapplication take longer. You can get a combination product that offers both pigment change and seal all in one. It's up to you which you prefer, but we highly suggest a stain with a sealer to save you money, time, and effort.
Toxins
Most products are filled with chemicals and oils that can harm the environment, people, animals, and plants. While they often offer better, longer-lasting finishes, you need to take more precautions. If you want an option that is better for your family, then choose an option with low or no VOCs to avoid potential health issues.
Questions About Semi-Transparent Deck Stains
How often should I re-stain my deck?
The product you choose should tell you how often it needs to be reapplied. Otherwise, once the product stops repelling water or shows signs of aging, it's probably time to reapply the stain. If rain or other water soaks into the deck, then it's time to reapply. Choose a stain and sealer if you want to reduce reapplication.
Do I need to add multiple coats of stain?
Not all stains and sealers require multiple coats for optimal coverage. Check the container to see if your product needs more than one coat. However, most semi-transparent stains only require one coat, but a few do require two coats.
How long does stain for decks take to dry?
On average, deck stain takes about 24 hours to dry for oil-based stain. Water-based stain dries much faster, in a matter of a few hours instead of a day. Read the can to see how long you should wait for the product to dry.
What is the correct way to apply semi-transparent deck stain?
Applying any deck stain is a relatively straight-forward process. After prepping the deck, use a roller, brush or sprayer to apply the deck stain. For complete instructions on how to apply semi-transparent deck stain, watch this video:
Final Thoughts About Semi-Transparent Deck Stains
Semi-transparent stain allows you to see the beauty of your deck wood while offering some color. With a stain and sealer, you can protect the wood better and still add a light pigment to the wood. Find the best option for you and make your deck gorgeous.