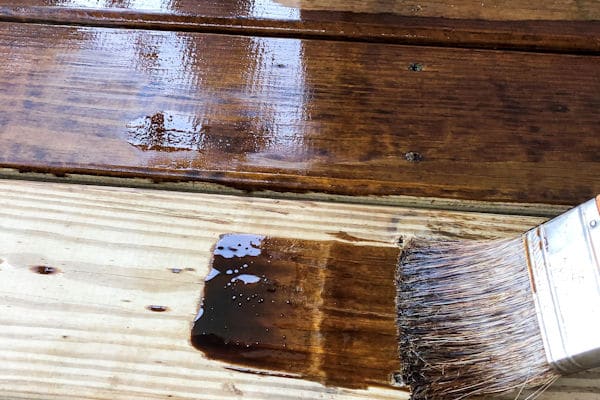 When selecting the best stain for pressure-treated wood, your requirements and budget are the most crucial factors to consider. Some stains require numerous coats to achieve complete coverage, while others may only need one, depending on what type of wood you are using.
Pressure-treated wood is a far superior choice for decks as it's more durable and resists rot, decomposition, insects, and environmental factors. Take a look at the seven best stains on the market for pressure-treated decks, including a clean option that improves with age and options with stain and sealant for a one-and-done job.
Best Deck Stains for Pressure Treated Wood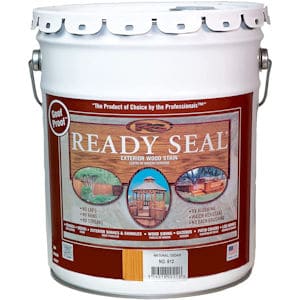 Ready Seal Exterior Stain and Sealer offers several shades, and it's easy to apply even without primer as it acts as a sealer for further benefits. The genuine, natural color develops over two weeks and may appear excessively dark at first but will lighten with time. Furthermore, you can use a brush.
Depending on your preference, the stain can be applied with a brush, sprayer, or roller. Maintenance is simple because you do not have to strip or sand your deck before reapplication. Additionally, there is no need to dilute or thin this stain if you are going to spray it on, making it even easier to use. Because of its oil-based nature, it may penetrate deep into pressure-treated wood and provide a long-lasting seal.
Next, this semi-transparent stain enhances the original color of your deck rather than masking it, bringing out the wood grains and making them more visible. However, before putting this stain on your deck, make sure to take certain precautions. First, allow plenty of time for your deck to dry after cleaning it to eliminate any oil, dust, mildew, grime, and other contaminants.
Lastly, remove old paint coats that can prevent full penetration of the stain and sealer. Your hands will be stain-free because it contains linseed oil. As a result, this stain is well worth the money once correctly applied!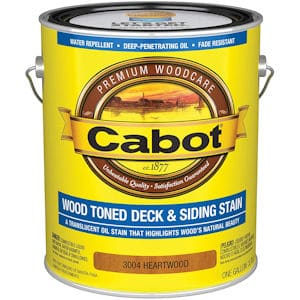 Cabot Wood Toned Deck & Siding Stain is made with a proprietary blend of resin and oil to give bare wood a great natural finish. This unique product is available in five natural tones and preserves the natural beauty of outdoor wood. The stain also provides exceptional wood penetrating protection against the sun and all damaging weather elements.
Add in mildew-resistant and water-repellent to keep moisture out and prevent warping, and check for an exceptional stain. Do note that the stain does not include a sealer, but not everyone wants a stain and seal combo, and this should be your first choice for a stain without a sealant. Cabot's is easy to apply, requiring only one coat, and subtly darkens wood when first applied, leaving a flat and translucent surface.
Over time the finish weathers to a natural wood hue, depending on the color of the product and the type of wood. A single gallon can cover 400-600 square feet on smooth surfaces or 200-300 square feet per gallon on uneven surfaces. It's versatile, too, as it's safe to use on pressure-treated wood, cedar, fir, pine, cypress, spruce, redwood, and plywood, and produces excellent results on all premium grade lumber.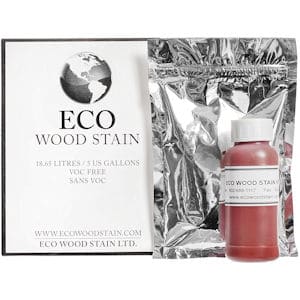 If you are searching for an eco-friendly, non-toxic stain that will only require one treatment for its entire life, you need the Eco Wood Treatment Stain. While it sounds too good to be true, it's real, and you can buy it for a very affordable price and save time as you will never have to stain your deck again. Even better, the stain actually gets better with age and does not require sealers!
As it becomes older, it really becomes more effective as it turns any wood into a high-end aged appearance with absolutely no maintenance required. There will be no cracking or checking the wood as the stain does everything for you. All this is from eco-friendly 100 percent organic compounds found on earth, not in a lab. You will not find solvents or residue that can harm people, animals, plants, water, or soil.
The stain comes in powder form, ready to mix with water for application. Use any method you prefer to deliver this stain to your deck. They offer five colors, including black, brown, gray, silvery patina, and red, which work very well on pressure-treated wood. One gallon of the stain covers approximately 150 square feet, which seems too small an amount, but remember you only have to stain with this product once, ever.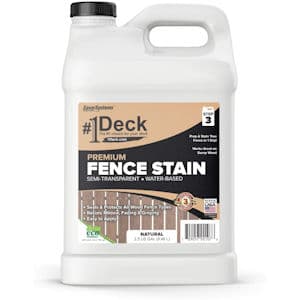 Anyone who wants two products for one price will love the #1 Deck Premium Semi-Transparent Wood Stain, as it contains both stain and sealant in a water-based formula for further durability. Choose from several color options to suit your needs for a natural look while retaining the natural beauty of the wood grain. Visibility of the wood grains while increasing the wood color because it is a semi-transparent substance.
Moreover, this stain is eco-friendly and resists mold, graying, peeling, fading, and other issues.
As a result, your pressure-treated deck will last for years with no upkeep. This stain can be used on various woods, including pressure-treated pine, softwoods, hardwoods, Fir, Cedar, Redwood, and others, making it very versatile. You can even apply it to damp wood which translates to less waiting time between cleaning and staining.
With #1 Deck Stain, you get a beautiful and protected deck as it efficiently seals wood, providing enhanced protection and water resistance, increasing your deck's endurance and life span. Stain does not get any easier than this product; all you have to do is clean/strip your deck, brighten it with a brightener, and then stain it. One gallon covers about 100 to 150 square feet of wood depending on the surface smoothness, and two coats are necessary, so plan ahead and expect to reapply every two to three years.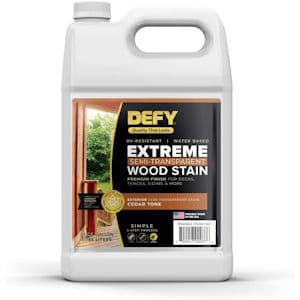 Defy Extreme Wood Stain offers a water-based stain for a deep and beautiful tone. The natural aesthetic of the wood grains stays visible during the coloring process because it is semi-transparent. This stain also protects the color from the sun's harmful UV rays, making the color last longer. In addition, it gives your deck a matte appearance that is both natural and attractive and provides lasting power other brands do not because of high-quality resin.
Furthermore, the stain resists fading or darkening thanks to the unique makeup. As a result, it's a great option for pressure-treated wood decks and fences, outdoor furniture, and much more! It is also simple to maintain and will easily outlast some of its competitors by a couple of seasons. To refresh, just brighten the wood surface and reapply a single layer of stain. In addition, zinc nanotechnology protects against the sun, further ensuring the long life of your deck stain.
The stain is easy to wash too once dried and cleans effortlessly due to its water-based acrylic composition. As a result, keeping your deck clean is no longer a challenge, and no special equipment is required. You can use a brush or a sprayer to apply it in whatever way you like, and it does not require stripping or sanding prior to use while only needing a single application for several years. Finally, one gallon covers between 100 to 150 square feet, depending on the texture of the wood.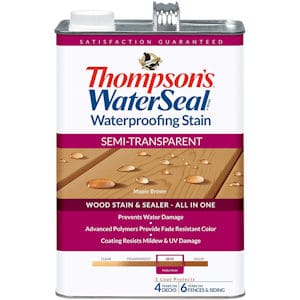 Thompson's Water-Seal Waterproofing Stain offers a combo that contains everything you need to turn your deck into a haven. This product is a semi-transparent water-based stain and comes in several wood tones. In addition, it has been pigmented in just the right amount to ensure color enhancement while still allowing the woodgrains to shine through.
Using highly innovative polymers, the stain gives your decks a fade-resistant color that will last for years. Also, it repels UV rays, mildew, and water. When it comes to waterproofing, the product exceeds the industry standard giving you a product you can trust. Your pressure-treated timber deck can be protected for up to four years with only one treatment.
Apply the stain any way you prefer, whether by brush, sprayer, or other means. It's even safe to use on damp wood if you do not want to wait for it to dry. As a result, waiting time is drastically reduced, and maintenance is a breeze! Choose from semi-transparent, transparent, or solid to get the deck color you want, all in a single coat.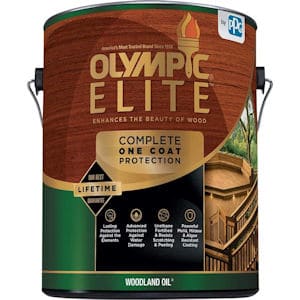 Olympic ELITE Stain + Sealant in One is a super-premium stain with extraordinary richness and depth of color that protects and enhances the natural beauty of wood. For natural beauty and durability, all wood-inspired uses only the most lasting pigments in multiple gorgeous colors. Natural oils and rich, delicate colors are used in the stains to accentuate and enrich the wood's natural grain.
This super-premium outdoor wood stain is developed to protect and enhance the natural look of wood while also offering protection and beauty throughout the year. It also has a powerful mold, mildew, and algae-resistant finish. Use this stain for all-season protection as it uses a urethane-fortified formula for strength to prevent cracking and peeling. Also, it offers enhanced waterproofing protection, gives a robust mold, mildew, and algae-resistant finish.
Use this excellent as a deck stain and for all wood types, even exotic hardwoods and pressure-treated wood, to get the best deck possible. Apply to new, dry, pressure-treated wood, uncoated new or weathered wood, or wood that has already been coated with a clear sealer or semi-transparent stain. Depending on wood texture and porosity, about 250 to 350 square feet per gallon. Last of all, the stain includes a lifetime warranty.
Buying Guide For Deck Stain For Pressure Treated Wood
Before you pick a stain for your pressure-treated wood, here are a few factors to take into consideration.
Types of Deck Stain
The sort of stain or finish you desire on your deck will determine the deck stain you use. Check out the most common options.
Oil-based deck stains penetrate deeply into the pores of the board, making them ideal for hardwoods and other exotic woods such as Ipe, Tigerwood, and Cumaru (Brazilian Teak). In addition, oil-based deck stains are simple to apply and maintain. The wood stain will stay for 1-2 years and maybe readily refreshed by applying another coat. However, an oil-based deck stain has the disadvantages of having a strong odor, taking longer to dry and cure, and staining your hands or other surfaces.
Water-based deck stains are more ecologically friendly than oil-based deck stains because they contain fewer VOCs (volatile organic compounds), making them safer to use and dissipating any aromas rapidly. They naturally resist water, rot, mildew, and mold. The disadvantage of using a water-based deck stain on a big deck is that it can be difficult to apply. They do not penetrate the wood fibers as effectively as oil-based stains reducing the level of protection or as rich a color.
A translucent wood stain with no color pigments offers the wood a great natural-looking gloss if you want to show off your deck's gorgeous natural wood grain. Although a translucent deck stain is simple to apply, the wood may begin to gray after a few months, necessitating reapplication. However, this type of wood stain is more resistant to fading and will look beautiful for 1-2 years before needing to be reapplied, depending on the conditions.
Benefits of Deck Stain for Pressure-Treated Wood
Use deck stain to prevent rust and extreme weather problems. Just because the wood is pressure-treated internally does not imply it is not in need of external protection. Also, it's for that reason you should have them sealed and stained to protect them from corrosion and the elements.
Another important reason to stain wood that has been treated with arsenic is to trap hazardous arsenic compounds. As a result, the newer ones require staining to guard against external adversity, whereas the older ones require it to lock in toxic compounds. It's worth noting this implies a need for stain and sealing. Most stains also act as a sealer, penetrating deep into the wood and sealing it against moisture, water, heat, UV rays, and other factors.
Finally, stains can also change the color tone of your treated wooden decks and give them a new look. In addition, the prominence of the wood grains due to the stain pouring into the wood adds a layer of elegance. Choosing the finest stain for pressure-treated decks is essential for keeping the wood from drying out too rapidly. As a result, the deck wood does not become severely twisted.
Questions About Best Deck Stain for Pressure-Treated Wood
Which is better for pressure-treated wood: oil or water-based stain?
Both water-based and oil-based stains can be used on pressure-treated wood; however, some individuals prefer oil-based stains. Oil-based stains have a consistent appearance and do not create lap marks. Because the drying period is so much longer, blending your brush strokes to achieve a consistent finish is a lot easier. Additionally, oil-based stains are simpler to apply since they permeate the wood rapidly and stick to it.
Before staining my pressure-treated wood deck, how long should I allow it to weather and dry?
It is debatable. A newly treated wood can take anything from a few months to a year to dry out, depending on the type of wood and the advice of an expert. However, thanks to current advancements, you may completely avoid the weathering process by selecting the right stain and following the directions to the letter. Oil-based stains, for example, are the finest option for damp wood. Although, certain water-based ones have qualities comparable to oil-based stains.
This video gives more details on how long to wait before staining:

When Should I Re-Stain My Pressure Treated Deck?
Whatever stain or sealer you use on your deck will eventually break down as it ages. This is why re-staining is required regularly. Because your deck is an external piece of woodwork, this is a more important process. The water test is one approach to see if reapplication is necessary. All you have to do now is pour some water on your deck and wait to observe how quickly the water puddles are absorbed. If the wood surface appears to repel water with no visible absorption, you can postpone the re-staining; otherwise, it's time to stain again.
Final Thoughts About Best Deck Stains for Pressure-Treated Wood
Staining pressure-treated wood decks offer numerous advantages. While all stains are excellent for woodwork but with different purposes and results. We found the best options, including water-based, oil-based, and even environmentally friendly. Choose the right option for your needs, the wood you are using, and the results you hope to garner. Happy Staining!