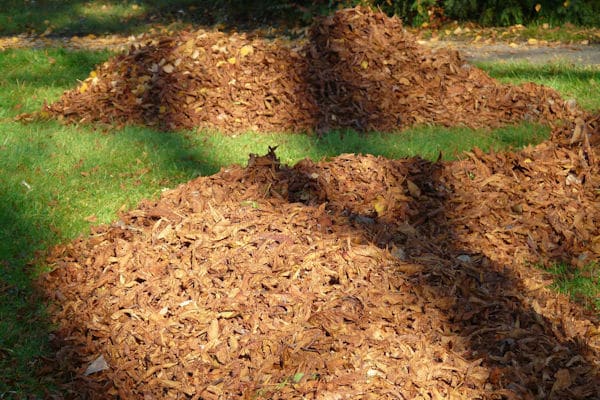 Dealing with brush and fallen branches around your property can be a hassle. If a tree falls that is large enough the bigger branches and trunk can be turned into firewood, but that still leaves you with the small branches.
The answer to that problem is a chipper/shredder. Rather than hauling them away or burning them into messy ash that also needs disposal, a chipper can reduce those unwanted branches into useful landscaping and gardening mulch.
That allows you to be both environmentally conscious, and can also save you money in the long run. Rather than paying a landscaper or big box gardening center for bags of mulch, you can recycle the dead branches from your property yourself. All it takes is a decent wood chipper/shredder to get the job done.
The good news is you can find the right wood chipper here, including gas and electric options. We scoured the web for the best options to make shopping easier for you. Take a look at the seven best options so you can get your yard cleaned up quickly.
Best Wood Chipper
The super handy Wood Chipper Shredder Mulcher Ultra Heavy Duty is ready to make wood into mulch with a multi-functional design. It has a reduction ratio of 15:1 when you use the top hopper for a 1/2 inch max volume. A special slant design reduces jams, and it can hook up to a lawnmower, tractor, or ATV with a vacuum inlet for easy mulch (you will need to use a vacuum kit that is sold separately).
Add in a powerful recoil starting at 7HP with a horizontal 4-stroke cylinder OHV gas-powered engine with a 0.7-gallon max capacity. It can support up to 3-inch diameter wood. Choose this option if you want a durable device ready to last a long time. Keep in mind that gas motors are more powerful than electric but do come with a smell.
The chipper has a top hopper for chipping and shredding wood up to a half-inch in size. Additionally, aside chute works for three-inch branches and twigs while a back vacuum makes mulch out of leaves. Overall, the chipper weighs 120.7 pounds and measures 29.5 x 25. X 40.6 inches. It includes a nylon waste catch bag, durable wheels, and a handlebar on the top, making this a very comfortable and easy device to use and affordable.
The Landworks Wood Chipper Shredder Mulcher is a product that can assist you in getting rid of wood and leaves from around your home. It can easily handle branches and logs with a diameter of up to 7 inches. It features a powerful engine that can handle even the most difficult jobs. You'll get more use out of your wood than just burning it because it can shred, chop, and mulch it.
Like the option above, this chipper has a 3-in-1 chipper with a reduction ratio of 15:1. It also has a top hopper for 1/2 inch max volume for chipping and shredding. The side shoot can support up to 3-inch branches and limbs, while the attachable leaf vacuum works for mulching. A slanted design reduces jams, and it can hook up to other devices for easy transportation with a tow bar kit.
Please note the vacuum kit is sold separately. It's still a powerful device with a 7HP horizontal 4-stroke single-cylinder OHV gas-powered engine with a capacity of 0.7 gallons. Add in wheels and a nylon bag for storage, along with a resting bar for easy standing. Take control of your lawn with this powerful blue device. Lastly, the chipper weighs 129.7 pounds and measures 29.5 x 25.7 x 40.6 inches.
If you like the first option but want a smaller size, you need the SuperHandy Mini Wood Chipper Shredder Mulcher. The mini size can still handle a reduction ratio of 15:1 with a large extended feeding chute for up to 3-inch branches, limbs, and debris. The compact and light design weighs just 85 pounds and measures 34.6 x 32.2 x 22.8 inches.
On top, you can hook up the chipper to a personal transportation device for easy moving around the yard, but you will need to purchase a tow bar kit separately. The engine is built with the operator's safety in mind. Always follow the guidelines in the user handbook when operating the machine, and always use the proper hand and eye protection (the engine oil is not included.
A 3-year warranty is included with this wood chipper. In addition, the chippers are backed by a dedicated customer service team, so you may cut your trees with confidence, knowing that we are always here to help. Our Wood Chipper Shredder features a powerful recoil starting Rato 7 HP Horizontal 4-stroke Single Cylinder OHV Gas Powered Engine that can easily handle wood up to 3″ in diameter. Fuel with unleaded gasoline with an octane rating of 87 or higher, with a maximum capacity of 0.7 gallons.
The Sun Joe CJ602E Blower Joe Electric Chipper is an electric wood chipper with some of the best options for having a debris-free yard in no time because it allows you to recycle that debris into nurturing, organic mulch for your garden. Because it's lightweight, portable, and compact, the Sun Joe electric chipper is great for little yards and is easy to operate.
With the Chipper Joe, you get a 16:1 reduction ratio, and it's designed to shred sticks and branches up to 1.5 inches thick. Thanks to its 15-amp motor and 4,300 revolutions per minute speed, branches and brush are quickly transformed into chips. If you want a lightweight options, this is the one to choose as it's only 26.2 pounds and measures just 19.69 x 17.32 x 37.8 inches.
The Sun Joe electric chipper and shredder is simple to assemble and virtually maintenance-free, and it's ready to use as soon as you are. Simply plug it in and begin chipping right away! When the hopper is opened, the device has a safety stop that engages automatically. Last of all, it's ETL-approved and includes a two-year warranty.
The main feature of the GreatCircleUSA Mini Wood Chipper Shredder Mulcher is its one-of-a-kind and unrivaled 6.5 HP, 196 gas-powered Kohler engine. For increased efficiency, it has an extra-large hopper that can receive amounts of up to 2.5″ max chips feed. Furthermore, its adjustable chute features an expanded top for use efficiency, in addition to lowering the rate by 15:1.
This best wood chipper is simple to operate and does not pollute the environment with excessive noise. You can use this chipper without fear because it is certified by the emission compatible with EPA and CARB. It's lighter than the other gas-powered options, too, at just 76 pounds while measuring 30.5 x 29 x 18 inches.
Add a tow bar kit separately for easy moving around the lawn with your ATV, lawnmower, or tractor. Along with wheels and a standing bar, this compact chipper offers multiple positions and can drop debris straight into the garden for easier use and less wasted time thanks to a vertical discharge chute and a debris flow knob. An all-steel construction means this machine will last for years of mulching.
The Earthwise GS70015 15-Amp Garden Corded Electric Chipper sells out often because of the unique design and the collection bin. It's a powerful mulcher and chipper with a 15- amp electric motor ready to tear up branches up to 1.75 inches thick. A chute and tamper tool keep hands free and safe from the electric cord.
This chipper/shredder is efficient, safe, and easy to use. It has all the power to get the job done, and it's a joy to use. Branches, twigs, and fallen leaves are quickly chopped into little bits. There's no need to deal with messy gasoline or oil; simply plug it in and go. Chips are collected in a slide-in box for simple transport.
With a bushel collection bin and durable rear wheels. It's the ultimate cleaning solution for smaller lawns with a planet-conscious design that does not emit harmful odors into the environment. At just 31 pounds, it's lightweight and easy to move, especially as it only measures 24 x 18 x 42 inches. Choose this option to take care of your lawn and the environment at the same time.
Choose the EARTHQUAKE Chipper Shredder K32 if you need a heavy-duty chipper ready to handle anything. It's easy to use and dependable with a powerful 212cc 4 Cycle Viper engine. However, this option is a bit heavy at 118 pounds but compact at 26.5 x 23.3 x 41.1 inches. The smaller footprint can be stored easily in your garage or shed without taking a ton of space.
The Earthquake bag has a bottom-out zipper, robust fabric handles for carrying, and a Dock-and-Lock bag connector that allows you to securely connect and detach your bag from the unit. Also, the powerful chipper can shred limbs up to 3 inches in diameter and turn them into mulch for the garden. Airless tires move around the job site with ease, and they never go flat.
The tough steel hopper is built to efficiently feed plant debris into the grinding chamber while also enduring the shocks and bangs that come with working with huge limbs. In addition, the tri- and j-hammers in the grinding chamber will dramatically reduce material. Finally, earthquake is one of the few items on the market that includes a vacuum kit as an option (sold separately).
The Benefits Of Using A Wood Chipper
There are plenty of different benefits for having a chipper shredder in your garden shed, and we've got some of the best ones for you below:
Clean Up Is Quicker – A wood chipper can turn even the largest of trees into tiny little pieces, and it can make clearing up a large wooded area much faster. All you have to do is gather the chunks after you've put the wood through the chipper.
No Burning Needed – Most people burn unwanted wood, an with a chipper shredder, you can avoid this altogether. You can burn the chips, or you could make use of them. They can lower the costs of fertilizers for your plants and even fuel for the car. You can save the environment by avoiding burning.
Useful Materials – Whether you're looking to create mulch or compost, your chippings don't have to be trashed. You can also turn the chippings into pressed wood – people buy wood chippings to press them down and make them into other things, which is always worth looking into.
Bio Fuel – This is likely the most interesting thing that you can do with wood chippings, as you can use them to run your car or other vehicles. It's an environmentally friendly way to run your vehicle, so it's worth considering.
Buying Guide for Best Wood Chippers and Shredders
Gas or Electric
An electric wood chipper will suffice if you only need to pick up tiny branches and yard trimmings. They are less costly, lighter, and easier to operate. Simply put them into any standard household socket to get started.
Gas wood chippers are significantly more powerful than electric chippers and do not require the use of an extension cord or being near a power outlet. These wood chippers are pricier than electric chippers, though.
Capacity
The capacity refers to the maximum branch size that the chipper can handle. Unfortunately, the majority of chippers on the market can only handle branches that are less than 3-inches in diameter. If you want to utilize your chipper shredder for a lot of business work, especially in your neighborhood, you should invest in a more powerful commercial model.
Reduction Ratio
Chipper shredders are built to have a high reduction ratio. Therefore, it greatly impacts how much the machine cuts/shreds the stuff you throw in. Fortunately, a large number of chipper shredders on the market feature a reduction ratio of 10:1. Simply put, the debris you throw into the machine will be reduced to a tenth of its original size. There's a common misconception that the bigger your chipper shredder's reduction ratio, the larger and more powerful it is which is simply not true.
Questions About Best Wood Chippers and Shredders
How do I clean my wood chipper shredder?
You can use a brush to clean out any debris that has become lodged in the chute. You can finish by wiping the chute down with a moist, soft towel. To avoid an accident, double-check that the machine is turned off. You need to keep the shredder clean in order for it to work effectively.
What is the vacuuming ability of a wood chipper?
Getting the debris from your lawn ready for shredding can be difficult for homeowners with large properties. This is why a chipper shredder with suction capabilities is so crucial. Lawnmowers typically resemble chipper shredders with suction capabilities. When you navigate the places where they're on your lawn, they're meant to suck up the majority of the debris. Remember that they won't be able to manage huge tree limbs but can handle smaller items with ease.
Can I use ethanol in a gas chipper?
Ethanol-based fuels might not be the ideal choice for outdoor power equipment. Ethanol-based fuels perform fine in larger engines, such as cars, but they may be particularly detrimental to outdoor power equipment, such as a gas-powered lawnmower because they burn hotter and cause damage in smaller engines.
Final Thoughts About Best Wood Chippers and Shredders
Wood chippers make light of hard work in the yard. First, though, you need to choose between gas or electric. For larger yards, a gas option offers the power and capacity you need to get the job done, while smaller yards can use suffice with an electric option. Find the right option here and enjoy a beautiful yard.
Creating Your Own Mulch With A Chipper
If the idea of using a chipper/shredder to create your own mulch is intimidating, have no fear. Here is a short YouTube video walking you through the process: