Any Craftsman worth their salt has worked with a level before. These classic tools allow you to check to make sure that your work surface is as level as possible, helping you prevent an unwanted slope to your new deck. However, when you're trying to level a large area at once or looking to make sure that your deck is as level as possible when the ground you're working on is not, using a manual level can be a real pain. That's where laser levels come into play. Laser levels use a laser guideline system to not only mark the ideal angle for your project, but they also can throw out useful markers so that you can easily confirm your progress as you work.
While the concept of using a laser level may seem out of science fiction, these tools are surprisingly easy to use, and quite intuitive. If you're looking to speed up your next deckbuilding project, while also ensuring that you won't be enjoying your next evening on the porch at a slight angle, you'll want to invest in a laser level. Without further ado, here are the best laser levels for deck building, as well as some things you want to keep in mind before investing in a laser level.
Best Laser Levels for Deck Building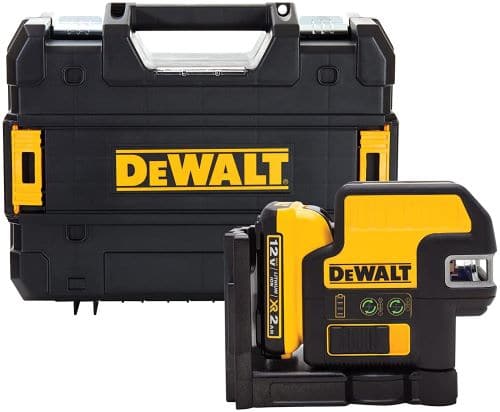 If you want your deck design to go off without a hitch, this is the best laser level available on the market. If you watch the guide video at the end of this article, you'll see that the demonstrator is using almost this exact model. This laser level does everything you would want from a traditional level, while taking some of the hassle out of walking back and forth to check your markings. The easy-to-use detector beeps to let you know whether you need to move your ruler up or down, and the compact carrying case allows you to easily transport this tool across your work site.
While this laser level can come with its own tripod, it can also easily be attached to any nearby surface, allowing you to ensure that your entire project is as level as possible. The included targeting decal can be attached to any available measuring device, and the safety glasses allow you to constantly check your location without worrying about eyestrain.
If you're looking for a laser level that will make your next deck building project a breeze, no matter how much leveling you need to do, you want to invest in the DEWALT 12V MAX Line Laser.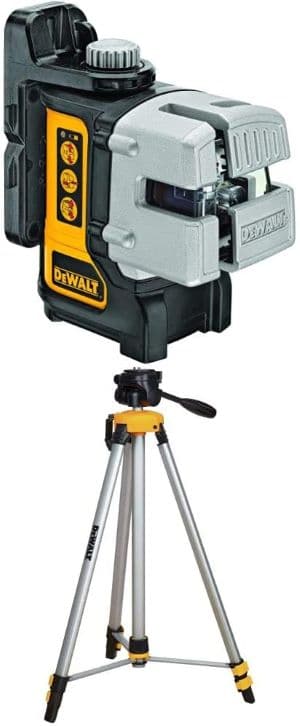 It shouldn't be surprising then another DEWALT product holds the number two spot on our list. This leveling laser is smaller than its counterpart, and more compact. Not only does it come with a vertical and horizontal laser feature, but it also includes an adjustable tripod for easy use. While this self-leveling laser does not cover as much distance as the first item on our list, it is much easier to set up and move around and can be used on smaller projects where an up close and personal touch really makes a difference. This leveling laser is also ideal for those looking to minimize the number of tools they bring with them throughout their project. It's easy enough to set up this laser level and allow it to do its thing, making your job that much easier as you work on your deck or any other construction project.
This level also features an extra strong laser to help with visibility in dark or in unideal building condition, allowing you to ensure that the base of your deck is as level as possible, no matter what the weather has in store for you that day. As an added bonus, the included tripod has collapsible legs, allowing you to adjust your level to whatever surface you set it on. However, it is important to make sure that your level is on a relatively flat surface before using it as a guide, as too much difference between the surface and the level can lead to some interesting results.
If you're looking for a laser level that is easy to bring with you, and provides incredible results, the DEWALT DW089K Self Leveling 3 Beam Line Laser is right up your alley.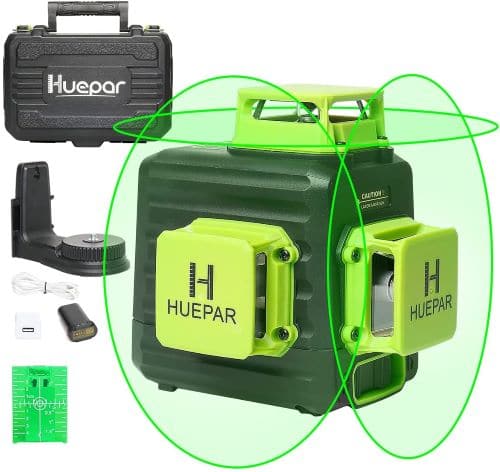 You have to admit, the picture for this one looks like something out of a sci-fi movie, and frankly this laser level lives up to the hype. The three directional 360-degree green beam leveling, and alignment tool allows you to fully take control of your surroundings, and ensure that every aspect of your project is perfectly level. This laser level comes with a mounting device, a detector, a compact carrying case, and a rechargeable battery, perfect for juicing up on-the-go or at the work site.
As an added bonus, this self-leveling laser is more compact than some of the others on our list and comes highly reviewed. This leveling laser also comes with a pulse mode that allows you to use it on larger projects, and from a distance. While this might not apply to your deck project in particular, it does make leveling on a larger work site or in less-than-ideal viewing conditions that much easier.
No matter if you're looking to fix your front stoop or are hoping to make the wraparound porch of your dreams, the Huepar 3D Cross Line Self-Leveling Laser can help you get the job done in a snap.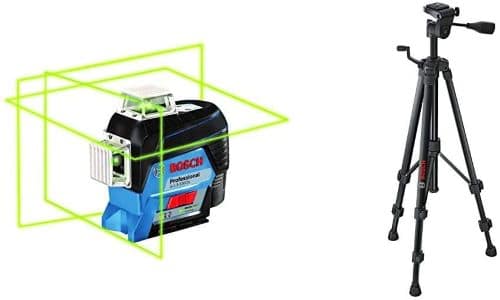 This compact laser level is ideal for smaller projects like building your own deck or trying to ensue that new kitchen flooring is as level as possible. This laser level features a 360-degree laser alignment spread, allowing you to easily visualize your project from all angles, and get accurate readings every time. The included tripod is easily collapsible, making this tool incredibly useful for the craftsman on the go. Unlike many of the laser levels on our list, this level is made to travel with you, and is much smaller than many of the other entries. While this may not be ideal for situations where you need to take on a larger area at once, it is ideal for those who'd rather avoid toting around a heavy laser level system to every job on their list.
Of course, don't let the small size of this level fool you. Not only does this laser level bring its a-game to every worksite, it also can be easily mounted onto a variety of surfaces, making it a simple task to move your level from one area of the construction project to the other. The tripod is also worth its own spotlight, as the easy adjustment levers and the customizable height and spread features ensure you'll get the most accurate readings possible in a wide range of locations.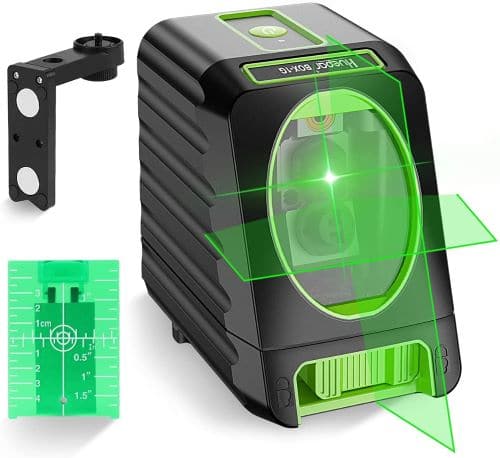 If you're sick of dealing with fiddly levels and are looking for an easy solution to your next deck building project, this laser level is a great price-conscious investment to the layman's toolkit. While this laser level does only cover 150 degrees of leveling at once, it's easy to rotate mount makes it that much easier to use, and the compact size and magnetic base make this tool a breeze to set up and use. While it may not be as complicated as some of the other laser levels on our list, this works in its favor, as it's easier than ever to take accurate measurements, without having to try and calibrate 16 lasers, a separate tripod, all while trying to decide if you really are at the exact center of your deck. Of course, this laser level may not be the best choice for those looking to take on larger projects due to its range, but with a little adjusting this simple laser level can be easily adjusted to take on a wide range of projects, all without spending your entire tool budget for the year.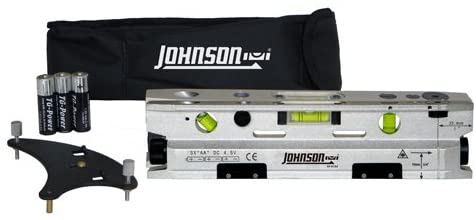 Don't let the shape of this level fool you, it's much more complex than your average leveling tool. This laser level is made for the DIY craftsman who's rather have a multiuse tool in their toolbelt than a one trick pony. This laser level is unique in that it combines the best parts of a manual level and a laser level, all with an easy-to-use format and a convenient mounting tool. The included laser dot leveling system allows you to easily visualize the correct angle, while the manual adjustment system allows you to be 100% sure your readings are accurate. This tool is ideal for situations where you can't fully trust your surface to be truly level or are looking to compensate for less-than-ideal workspaces. Not only can this laser level fit into tight corners, but it can also be used as a normal level, meaning you're not out of luck if your batteries die mid-project.
Of course, just because this level lets you work manually doesn't mean you're going completely tech free. The three-laser leveling system allows you to easily reference several planes at once, allowing you to double check that you have the most accurate measurements throughout your entire project. If you're looking to marry a classic craftsman's staple with the aid of technology, you want to invest in the Johnson Level.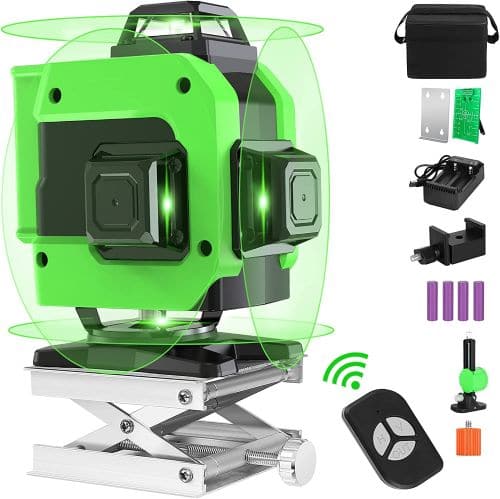 This self-leveling laser takes things to the next level, with 16 lines that conveniently cover a full 360 degrees around your project area. While this level does not come with its own tripod, it does have an attachment lift that not only makes it easy to secure, but also allows you to tailor the height of this laser level to suit the project area you're dealing with, which is much more convenient than trying to add manual height in the form of blocks of wood or other materials.
This laser level kit comes with almost everything you could need to work on your next project, all contained in a convenient and compact carrying case for easy transportation. The included remote allows you to adjust your leveling guides from a distance, meaning you don't have to constantly walk from one end of your deck to the other while trying to get things settled. Plus, the rechargeable lithium-ion batteries are easy to swap out on the go and can be charged at your worksite for added convenience. If you're looking to take on a large deck project, or any other construction task that could benefit from an easily adjustable laser level, the MiOYOOW Laser Level can help you complete your project of choice with ease.
Buying Guide for Laser Levels
Finding the right laser level is fairly easy. The first thing you need to do is figure out what you're going to be using your laser level for. Sure, you may want to invest in a laser level for a single project, but it's always a good idea to look at the big picture and consider what other projects you'll want to use this tool for. If you find yourself working in wide open spaces, you may want to find a laser level that can cover a wider area. On the other hand, if you find yourself working underneath decks or in crawlspaces, you may want a smaller, more mobile laser level to help you deal with finicky corners and low ceilings.
Another thing to keep in mind is the overall cost for your laser level of choice. Brother laser level can turn an entire project around, it is worth being honest with yourself about how often you're going to use this tool. Of course, a good Craftsman has plenty of useful tools at their disposal, and the average laser level can be used over a wide range of projects, making it an ideal addition to any toolkit.
Overall, the best way to choose a laser level is to take stock of your various projects, and figure out what you're looking for out of your laser level. Once you have a good idea of what you're going to need, finding the right laser level is as easy as comparing similar products.
Questions About Best Laser Levels for Deck Building
How Does a Laser Level Work?
Laser levels use the pinpoint accuracy of a laser to not only figure out the angle at which the level itself sits, but also to provide a visual guide for you to mark various heights. Due to the reliable angle created by a pinpoint source of light, laser levels can mark a workspace with incredible accuracy. Of course, in order to do this the surface that you're working on should be largely flat, which can be achieved by stacking various boards or by using a manual level to set the base of your laser level stand. Of course, more complex laser levels have a system built into them to automatically level the device, taking some of the guesswork out of your leveling system.
Why Should I Use a Laser Level?
Besides the fact that laser levels are an incredibly cool piece of technology, they can also significantly speed up your project. The accuracy and maneuverability offered by these devices allows you to spend less time quadruple checking your angles and more time actually building your deck. Laser levels can be a huge timesaver, and once you have your laser level set up in an area, you can use it too reference different heights across your entire workspace. This takes a lot of the guesswork out of setting up your level, marking down different angles, and scooting your way along the base of your project of choice. In the long run, laser levels can save you a ton of time, and take a lot of the stress out of building your deck.
How Do I Use a Laser Level?
This video walks you through how to use a laser level. While this video focuses more on concrete pouring, the same technique can be used to ensure your deck is level all the way across.
Final Thoughts
While many craftsmen will still find a manual level useful, laser levels can take a lot of the guesswork out of your next project, as well as ensure your deck, house, or new garage has the most level floor possible. If you're looking for other incredible tools to help you on your next project, check out some of our other articles to find kinds of deck stains that can make or break your finished deck, along with countless other guides to help take your DIY to the next level.