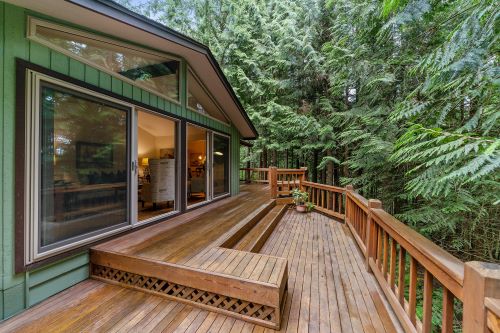 Pressure-treated wood can withstand more than untreated wood, but sealing still protects your investment. Many offenders can attack pressure-treated wood or cause it to lose its beauty and luster, such as the sun, moisture, and time. Instead, invest in some sealer that works with pressure-treated wood and keeps your deck beautiful longer.
Furthermore, simply dragging a chair across the deck can ruin the wood, and so can children or pets. Heavy foot traffic makes sealing a pressure-treated wood deck a necessity. Now that you know why you should seal your deck, even if it's made with treated wood, it's time to find out what product to use to seal your deck. Take a look at the seven best options on the market.
Best Deck Sealers for Pressure-treated Wood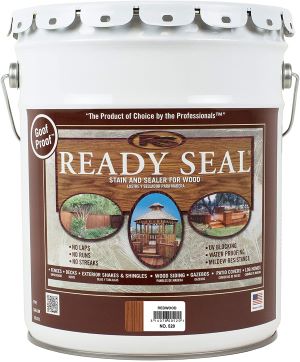 While the price of Ready Seal 520 Exterior Stain and Sealer for Wood is economical; and it comes in either one gallon or five-gallon size. Even better, this stain comes in several wood shades giving you more options to get the finish you want. Choose from burnt hickory, dark walnut, golden pine, light oak, mahogany, natural cedar, pecan, redwood, or mission brown.
People love this deck stain and sealer because it does not require a primer, and it works. It's at its darkest color when first applied and will be its true color about two weeks after application. Get protection from UV rays, mildew, and even water, as this provides superior waterproofing.
Next, you can apply the product any way you prefer including with a brush, roller, or sprayer onto all wood surfaces, including decks, fences, gazebos, and other outdoor wood. Although this is a professional quality product, it's still goof-proof and ready to make your life easier for the average homeowner. This means you do not need to dilute, thin, or do anything else to use the product.
Moreover, the product does not require a wet-line application, and it even blends itself! Use this at any application as it does not a specific temperature range. Mind you, the surface still needs to be cleaned and free of mildew, dust, dirt, debris, oil, and grease. Also, remove all other stains and sealers to ensure proper adherence to your wood. Do not use stain first as it's included, and other stains can inhibit the penetration of the product into your wood deck.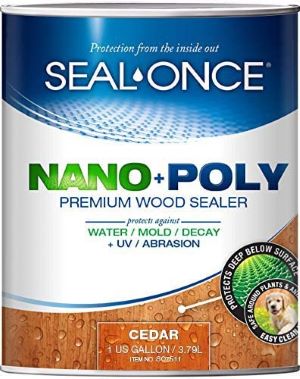 All of Seal-Once's wood sealers can be used on pressure-treated wood for decks, but we prefer the SEAL-ONCE Nano+Poly Ready Mix Penetrating Wood Sealer as it's the easiest to use and the simplest option. Keep in mind, you need to allow the wood to weather or age for at least three months so the chemicals in the wood can evaporate, and then the sealer can effectively seal.
To protect against UV rays, use the nano and poly mix as the clear allows the wood to gray naturally. If you want the wood to gray naturally, then stick with the clear. The product can be used on more than just decks, including swing sets, wood siding, pergolas, and outdoor furniture, to name a few.
Choose from nine different color options, including clear matte, natural, cedar, light brown, brown, bronze cedar, mahogany, black, and our favorite coastal gray. What you will love about this product is its eco-friendly, non-toxic, and ultra-low VOC making it a much safer option for children, pets, and plants.
The product penetrates below the surface to create a flexible and breathable barrier that prevents mold, mildew, and wood rot. Furthermore, the sealer prevents the wood from warping and extends the life of the wood with 360 degrees of protection. Not many water-based sealers can do what this blend does, thanks to the nano and poly mix, and it can work for up to ten years, saving you from needing to repeat the process every couple of years.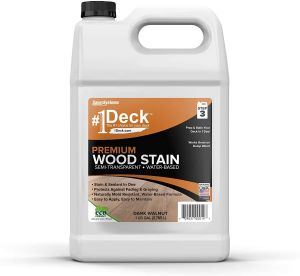 Choose the #1 Deck Premium Semi-Transparent Wood Stain for Decks for an affordable and easy-to-use option. The company offers tons of options from wood cleaners, stain strippers, wood brighteners, and this fantastic semi-transparent wood stain that penetrates clean wood deep enough to protect it from the sun, UV rays, and other elements.
Not only does this product add gorgeous color, but it seals too as a stain and sealant with one easy step. Moreover, the product is easy to maintain once applied. It can be used on all softwood types and include four finishes, including natural, cedar, light walnut, and dark walnut. The gorgeous options enhance the wood and leave a natural flat finish.
Before using, the company suggests you strip, clean, and brighten the wood. Next, mix the stain well and place drop cloths around surrounding areas. Apply using a brush, roller, or even an airless sprayer. Apply two coats on vertical surfaces and then two coats on horizontal surfaces. Wait a full day to allow the stain to dry properly.
The stain comes in one gallon or 2.5-gallon sizes, and a gallon can cover up to 150 square feet. Another benefit is the stain and sealant uses low VOCs with less than 50 grams per liter, thanks to a water-based formula that's state compliant. Finally, you can use the stain on damp wood, which reduces the wait time after cleaning.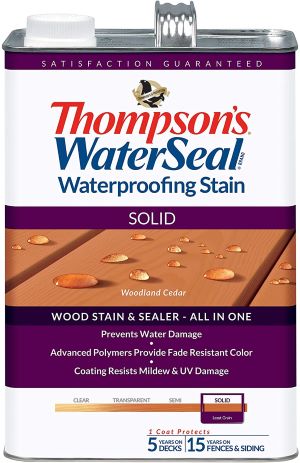 If you want your deck to maintain a darker solid color chose the Thompsons Waterseal Solid Waterproofing Stain. With this option, the wood grain stays hidden under deep pigments while still allowing the wood texture to show through. You also have the option of semi-transparent, transparent, or clear to suit your needs, along with several color options. In the solid, you can choose maple brown, sequoia red, or woodland cedar.
Use this product to waterproof your wooden deck and protect it from sun damage along with mildew. It provides long-lasting and durable protection using advanced polymers that resist colors from fading. Moreover, you can use it on freshly cleaned damp wood or dry wood. No need to apply more for five years!
The one-gallon container provides 150 to 400 square feet of coverage. Even better, the solid coat only needs one coat for optimal coverage! The product dries in just two hours, but we still suggest waiting at least a full day for the best results. Use a paint pad, brush, spray, or a roller to apply the product.
As an all-in-one stain and sealer, the product will save you time and money; however, the product is rather thick, making it a little harder to use in a sprayer. However, the smell of these options is not the best, and this is not as environmentally friendly as other options. Make sure to use clean aged wood before using the product. Keep in mind that the product is ready to go and does not require any additional products but does need to be shaken well.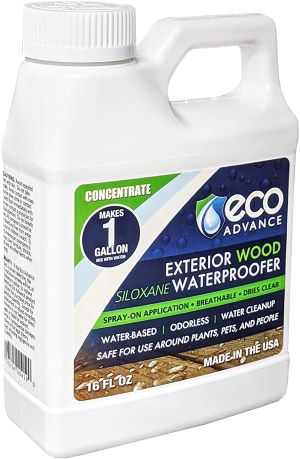 The Eco Advance Wood Siloxane Waterproofer Concentrate offers a fantastic option so long as you do not want a color option as this only comes in clear. What we love about this product is the economical price and eco-friendly ingredients. The product will not harm plants or vegetables. Also, it can even protect from abrasions making this a great option for high traffic areas.
While it will definitely work on pressure-treated wood, you need to wait a few weeks to a few months for the chemicals to reduce before applying the product. Additionally, for newer pressure-treated wood, you will want to dampen the surface prior to applying the sealer as it does not always soak in moisture. Keep in mind because the product is clear, it will naturally gray with age.
Choose this product to protect against water damage, mold, and mildew. It offers long-lasting beading and waterproof without harsh chemicals. Moreover, it's non-toxic, non-flammable, low odor, and eco-friendly. Not many sealers have zero VOCs, but this one is really that clean! Moreover, you can even use the product in cold weather as low as 34 degrees.
The product comes in a concentrate that translates to a full gallon but will require a little more work on your part as it's not ready out of the jug. It dries in one to two hours and needs two coats for optimal coverage. Finally, it comes with a five-year limited warranty. The smoother the surface, the more coverage you will get with this product.
No products found.
Choose the Storm Protector Penetrating Sealer & Stain Protector for an oil-based stain and sealer. This deck protector includes the stain with six different color options, including golden oak, walnut, cedar-tone, hickory, pacific redwood, and Sienna. No matter which color you choose, you will love the semi-transparent coverage and the multiple ways you can use this product. After finishing your deck, use it on the fence or siding too.
The product penetrates deeply into the wood to provide protection, but you will need to let pressure-treated wood age before use, as with all products. Use this for a variety of wood species, including mahogany, cedar, pine, spruce, fir, and more. Moreover, you can apply the product with a roller, spray, or brush to get UV protection and lap-free application.
As an oil-based sealer, this option takes longer to dry. You need to wait a full day or longer for it to dry to the touch for the second coat. Also, while the product is VOC compliant, it's not without VOCs and will require you to wear gear while applying for safety. The product can cover up to 175 square feet per gallon as long as the surface is smooth.
Lastly, you do not need to thin this product before use. You will want to apply two coats for optimal coverage, which does increase the cost. Mix the product often while using it to ensure an even level of color. Many customers had issues with expiration dates and opening the container making this a slightly troublesome option.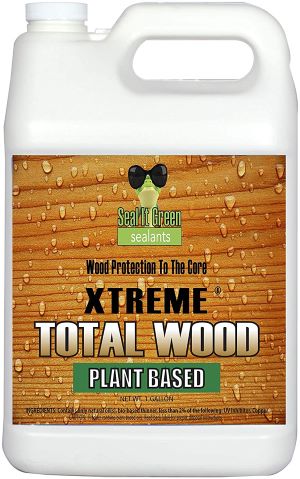 For a plant-based sealer, choose the Deck Armor-Total Wood Protection by Seal It Green. While it's a more expensive option, it's safe around children, pets, and plants with almost zero VOCs. Furthermore, the product does not contain linseed oil, pine oil, ferrous sulfate, or hazardous solvents. If you want to buy local products, this one is made right here in America!
Protect your deck from rot, cupping, curling, cracking, bugs, and water without harsh chemicals. It even protects from sun damage and protects end grains from splitting. Moreover, you can use the sealant on a variety of woods along with pressure-treated wood, including exotic wood, bamboo, IPE, and many more.
What we love about this product is a gallon can cover an impressive 400 square feet making this the best coverage available per size. However, you may need a couple of coats as this is not a one application product. Use it for all your wood products outdoors, including fencing screening, docks, pergolas, and of course, your deck.
Finally, choose from several color options, including clear, cedar, stone, and walnut. If you use the clear coat, expect that your wood will naturally gray. Get lifetime wood core protection without harming yourself, your family, or your yard in the process; just know it will cost to get this very versatile product.
Buying Guide for Deck Sealer
Before you pick a sealer for your pressure-treated wood, here are a few factors to take into consideration.
Color
Many people choose a color that matches the wood or their home, while others choose clear. For lighter color, you can choose semi-transparent to get more protection than color. Be sure of your color choice as it's a pain to remove and expensive to redo.
Toxins
If you do not want toxins, choose one of the options with low VOCs. Toxins can harm children, animals, plants, and other structures in your home. Other options will with more VOCs can damage your skin, lungs, and yard, so make sure you wear protective gear to prevent issues.
Wood
Not all sealers will work with all woods. Some will only work for hardwood or just softwood. Make sure to read the directions carefully and check the product will work with your wood choice to prevent a ruined finish along with an expensive fix.
Questions About Best Deck Sealers for Pressure-Treated Wood
What is the best temperature for applying sealer to my deck?
If you can plan it, try for a temperature of about 70 to 77 degrees with low humidity. Of course, the weather rarely behaves, so try to stay between 45 to 90 degrees, and low humidity as humidity can increase drying time.
Do I need a stain and sealer?
Stain and sealer are two different products. Stain changes the color of the wood but does not protect. Sealer protects but does not change the color. When you find a two-in-one stain and sealer, you are getting both color and protection with less work. You do not need to stain unless you want to change the color. Choose a clear or transparent sealer if you want to leave the color alone.
For more on stains, check out our review of the Best Deck Stains for Pressure Treated Wood.
Should I choose an oil-based or water-based sealer?
Both types of sealers have different pros and cons. Oil-based often lasts longer and is more forgiving but takes longer to dry and has toxins. Water-based dries quicker and doesn't have toxins but doesn't last as long. Also, water-based can go on damp wood, but oil-based cannot.
How do I apply deck sealer?
Watch this video to see the correct way to refinish an old deck and apply the new deck sealer:
Final Thoughts About Best Deck Sealers for Pressure-Treated Wood
Sealing your deck made with pressure-treated wood does not need to be a difficult process. Make sure your wood has sat out for a while to reduce the chemicals so the sealer can adhere to the surface. From there, you need to decide if you want a stain and sealer or just a sealer. With the seven best options above, you will have no problems finding exactly what you are looking for to get a gorgeous deck.